Interdisciplinary Shows - Written and Directed by Martín Loyato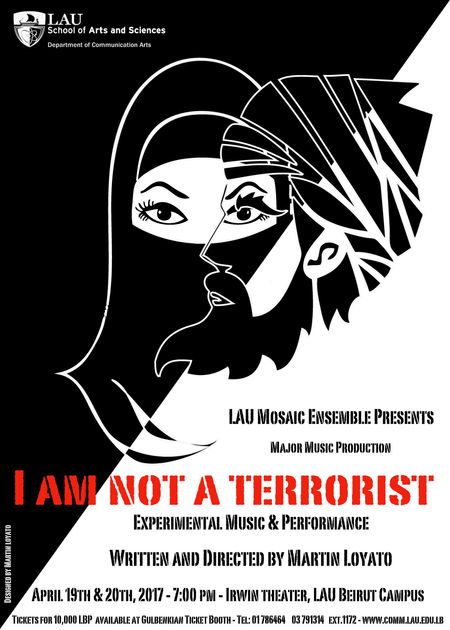 I AM NOT A TERRORIST (2017)
"I Am Not a Terrorist" is an experimental performance, in which I intend to arouse thoughts and feelings that might create a constructive awareness of today's current international socio-political situation.
One can see how Middle Eastern individuals have been mistreated and misjudged by the West just because they were born in these lands.
The topic is not clearly a black and white one. There are important questions that one should be able to ask to oneself and analyze. This does not mean that terrorism should be acceptable, because it is not.
The intention of the show as an experimental performance is to make the audience discuss and reflect upon what creates the environment for such behaviors and its repercussions without forgetting the significance of the human component on the three sides; the West, the Middle East and the terrorist groups. Why do they react that way? Is it due to power, oil, religion, culture, illiteracy, privilege and oppression, or just dominion strategies of fear?
By combining multimedia, light-mapping, poetry, music and dance, I set to engage the audience with the question of authenticity, truth, perception and reality.
---
  VADIS QUO (2015)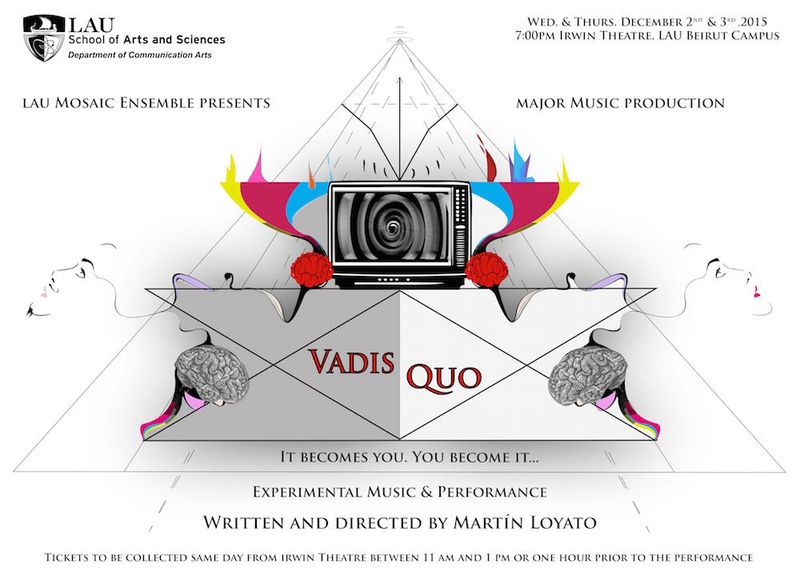 This show is an interdisciplinary experimental performance that aims to critique the role of media in today's society. By combining multimedia, 3D projection, music and dance I set to engage the audience with the question of authenticity, truth, perception and reality.
With an educational and interdisciplinary approach, I recruited students and faculty members from Journalism, Interior Design, Perfoming Arts and TV & Film departments to collaborate with the project. The production team includes an interior designer, 11 musicians, 9 dancers, 10 film and television members and an entire class from Investigative Journalism course. 
The musicians will be performing under the stage, while videos of each of them will be live streamed to a series of 11 TVs display on the stage, one per musician. The live streaming will be edited together with pre-recorded footages of the same musicians performing and mixed spontaneously, making the audience to wonder about which TV set display is live and which is not? representing the metaphor of which one of the thousands news and information we absorbed per day is true. Dancers will be choreographed to use the space on the stage, which the stage set is a reminder of an immense void tunnel, just like a huge TV or computer monitor.
---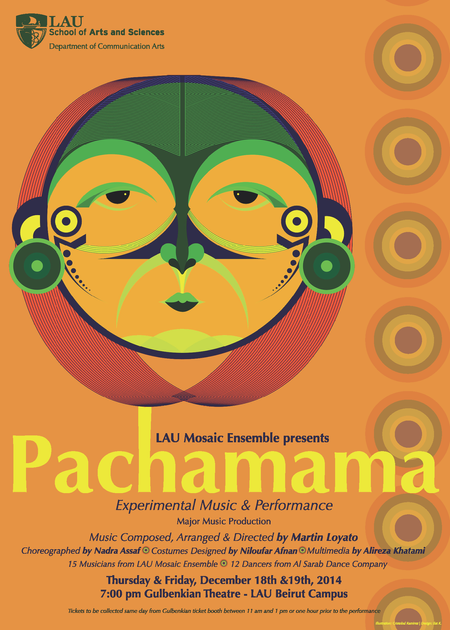 PACHAMAMA (2014)
The show is an interdisciplinary experimental performance that combines multimedia, fashion, music and dance. I hope to provoke thoughts and create an awareness of today's world environmental stewardship through an educational interdisciplinary performance.
The production team involved 15 musicians, 12 dancers and 4 professors from the Lebanese American University in the field of Fashion Design, Dance, Film and Music.
The music is mostly original and it is a fusion of styles from indigenous origins, oriental, rock, jazz, and electronics.  It is my hope as the director of the show that the musical interchange and fusion will help to connect with the listener in unusual levels uniting all of us in meaningful experience.
For this show the music and lyrics I wrote and arranged together with the students was a metaphor and a symbolism of the manner we are treating our planet: Mother Earth. Because of this we did small changes in some of the lyrics of the oriental songs covers. 
---
WEB (2014)
"WEB" is an interdisciplinary project that involves dance, music, poetry, theater and visual arts and revolves around our New World of Social Media. WEB was written and directed by Dr. Martín Loyato in collaboration with British poet Ms Moem, Italian poet Manuela Gallina and Jordanian DJ and LAU student Fayez Burgan.
The audience was encouraged to bring their mobile devices to take pictures, write comments and exchange ideas on the "WEB" Facebook and twitter pages during the concert. Their interaction was streamed online and projected on the main screen live during the concert. This was an opportunity to explore the possibilities of new technologies and social media and think deeply about the effects of our actual social interactions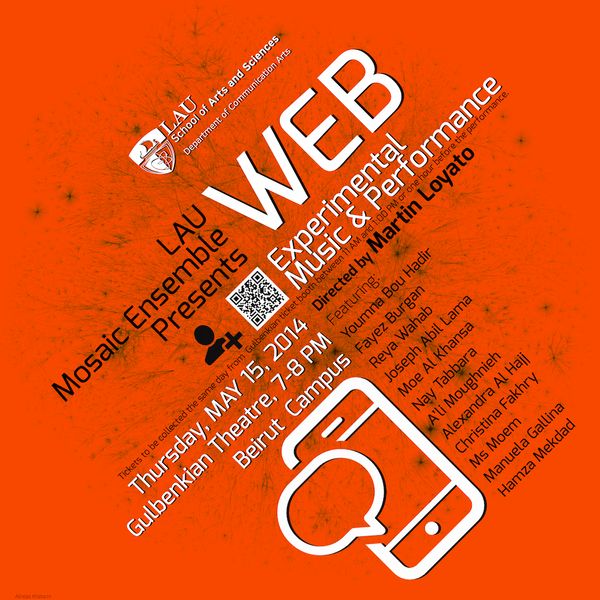 ---
 CONCERTS UNDER THE DIRECTION OF MARTIN LOYATO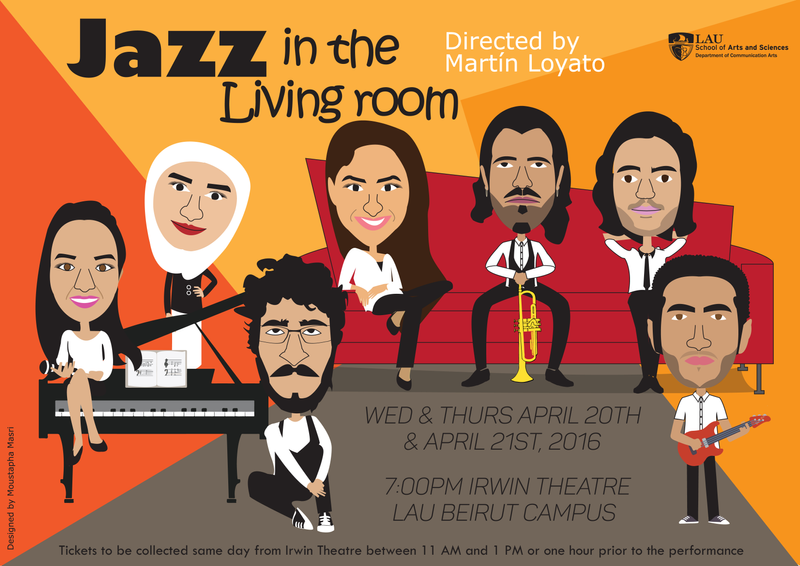 JAZZ IN THE LIVING ROOM (2016)
The goal of this project is to create an environment for learning that inspires, acknowledges, and rewards creativity and outstanding achievement in performance, arrangement and musical education.  
The preparation process for these shows does not expect the students to become jazz musicians, but just to expose them to a new musical experience through the discipline of rehearsals and conscious listening that this complex music language requires.
The World of Jazz can teach us how to listen consciously, to innovate, to improvise, to respond to changes, and reach new territories. Jazz is the sound of people negotiating change. Therefore, I believe it is important for young musicians and the community to experience and learn a bit more about this style of music.